How Mona Lipson is Building a ​
"

Community Supported Treats" Business in Brooklyn

Hint: it all starts with ice cream.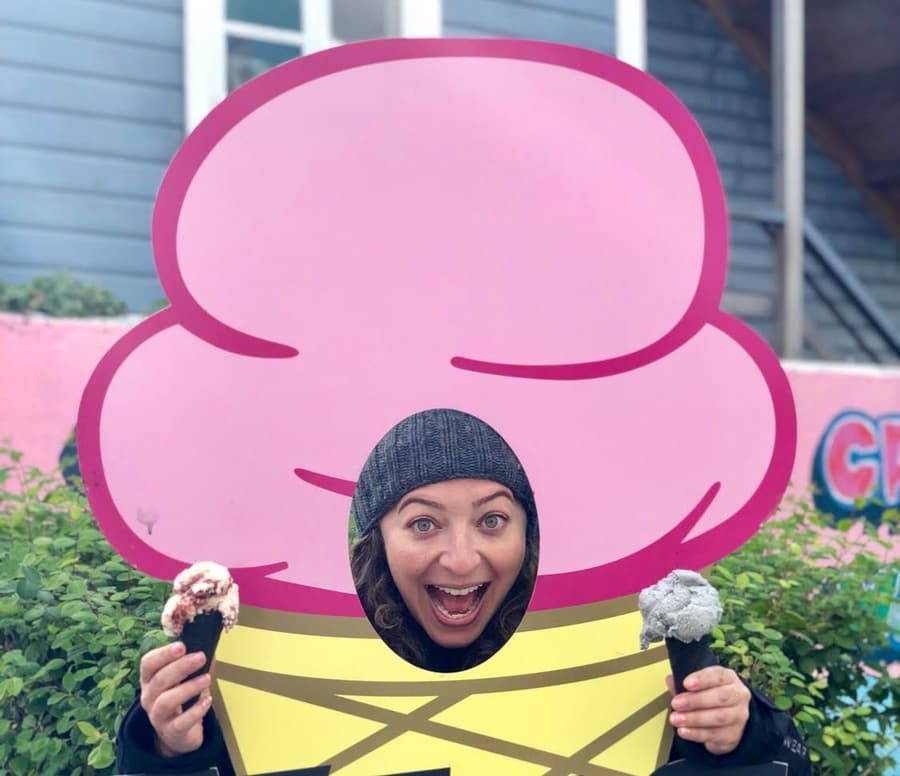 For Mona Lipson, making ice cream was a hobby long before it was a profession. Then, as the story goes, the pandemic hit, and with more time spent at home, she was churning out more flavors than ever before. So much so that she didn't have room enough in her freezer (or her belly, for that matter).
Lipson started leaving pints on the doorsteps of friends and neighbors. Soon after, she began posting about her ice cream on Instagram. She put up a link to a Google form in her bio for folks around Brooklyn to sign up for deliveries, and much to her delight, strangers wanted in. ​"It turned into a pretty extensive bartering situation," Lipson remembers. ​"I would show up with ice cream and people would want to give me something in return. And so I would come home with hilarious bags of stuff, it could've been plants and flowers, other food items, homemade cocktails, crocheted things." Some of those barter exchanges led to collaborations, specifically with makers who specialized in goods that could be easily—and deliciously—incorporated into ice cream.
Fast forward to today: Miss Mona Makes Ice Cream is now a full-time hustle for Lipson, who departed her nonprofit job in April to focus on building a ​"Community Supported Treats" business in Brooklyn. Think of it like a CSA, except instead of boxes of farm-fresh produce, customers receive three pints of homemade ice cream with mix-ins ranging from cookies and preserves made by other local makers plus a surprise-and-delight item from another community member. For example, June featured a lemon-and-vanilla flavor laced with golden cookies and The Jam Stand​'s blueberry-bourbon jam, banana with BaKD's dulce de leche-and-potato chip shortbread, basil with Brown Butter Supper Club​'s spiced pistachio brittle, and two banana pudding cookies from Sugar Hustle.
Walking on Sunshine was one of three pints included in June's CST package
"I've worked in the nonprofit sector for 17 years, and then it hit me, the community aspect of incorporating these items into my ice cream marries my career in social impact with my love of ice cream," Lipson says.
In late June, we caught up with Miss Mona herself to check in on how things are going — from collaborating with other local makers to figuring out logistics of local ice cream delivery, and how text messaging powers intimate and efficient customer relationships.
---
Emily: What's happening in the world of Miss Mona Makes Ice Cream right now?
Mona Lipson: I'm coming off two straight weeks of ice cream, through the weekend, nonstop. So I'm trying now to figure out: what are my next steps? How do I put my budget together? I'm doing a bit of a review of how June went and then need to get July up and running before it's too late.
At what stage is the company at right now?
June was the second month, but really the first month with a significant number of customers. May was more of a test. I only had about 20 people signed up. For June, I had 42. I brought on a delivery company, I was testing that out, I also tested two pickup locations. It went well, but I'm hoping next month I can push that to 60 or maybe even 75. I'm slowly trying to see what my capacity is without taking on too many more days in the kitchen or hire more support staff because the costs are obscene.
Do you keep a list of local makers that you're hoping to collaborate with? Or what's the process like for keeping track of people you want to work with?
I started first with the small business owners that I met over COVID. A bunch of us are in a Brooklyn makers group where we support each other, and you can share best practices or terrible experiences. A lot of them have their cottage licenses, so those are the easiest ones to partner with because they're technically legal. And then through the commissary kitchen that I'm renting, I've been reaching out slowly to the other makers in the space. That's an easy swap to do. I'm also part of a fairly large Facebook group called Women in Hospitality that I've posted on and I've been connected to a few people on there. It's a lot more work than just simply buying treats wholesale from Chefs Warehouse or Restaurant Depot, but that's what I really enjoy.
Personally, I've found that the problem with the proliferation of certain pop-ups over the pandemic, for example, pastry boxes, is that you have to consume the product quickly. But ice cream stays good for longer than your average treat, so it's nice to buy something that can last for more time.
You're 100% right. The other thing that's nice is oftentimes I'm utilizing product that can't necessarily be sold. So it's another way for [makers] to either sell unsellable product or avoid food waste. For example, in my first pilot box, I did a salted caramel cheesecake with brownie bites and the brownies were all the oddly shaped ends and pieces that Little Red Kitchen Bake Shop couldn't sell. She sold me five pounds of brownies for 25 bucks. So it was a win-win. Same thing with these BaKD salty caramel cookies. She had a massive batch that collapsed in the oven, they didn't rise properly, she was going to have to throw out probably close to 50 pounds of cookie batter, and I took 10 pounds of that. So there are benefits to that, too. I'm not necessarily asking them to make me product on its own.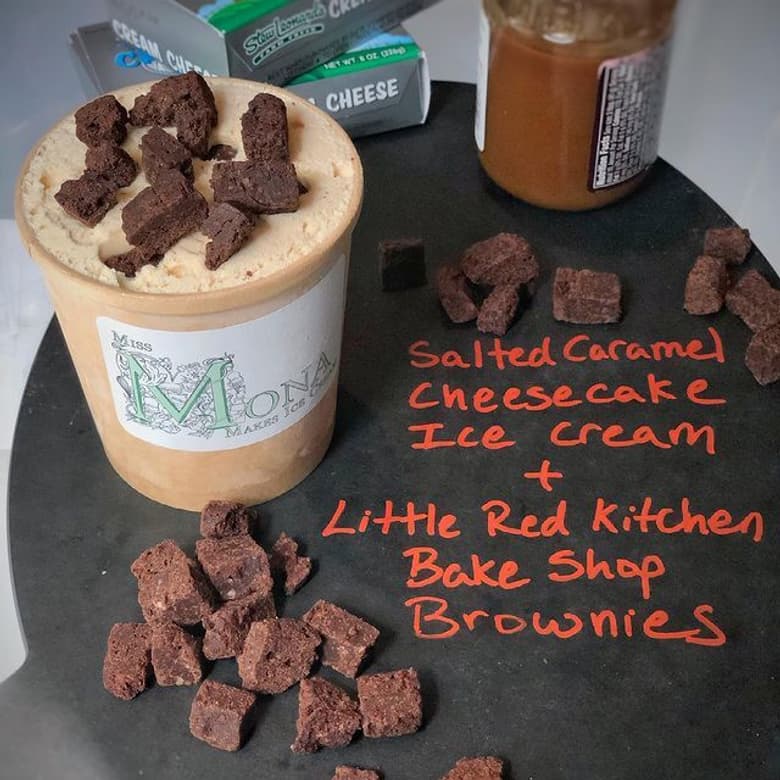 A pint of Miss Mona's salted caramel cheesecake ice cream loaded with brownie bits from Little Red Kitchen Bake Shop.
When did you decide you needed to move into a commissary space? And how did you go about finding that?
In New York State, dairy products don't fall under cottage law. So I knew that if I was going to sell I needed to be in a legal kitchen. I went through the process of getting my food handlers certificate, forming an LLC, getting my tax certificate, all the necessary paperwork. And then I didn't have much of a choice when it came to a kitchen because I have searched high and low across New York City, and I've only found one commissary commercial kitchen that has an ice cream maker. Thankfully that kitchen is here in Brooklyn, it's pretty close to where I'm currently living. The ice cream machine is relatively small, it only makes three quarts, which is only one more quart than my machine at home makes. They've purchased a 35-quart machine, it's a monster, but it's been sitting in the doorway for almost six weeks because it is such a process to get it installed. So I'm just counting down the days until that happens, because that will completely change production for me, being able to do 30 quarts at once versus three quarts ten times. I've also been talking to a few other commercial kitchens, trying to encourage them to invest in an ice cream maker, because I feel like there are so many of us that are looking for spaces, and it's very expensive to buy our own batch freezer storage space.
How does the process work of compiling and delivering boxes — from receiving the treats to transporting frozen goods?
It's still a work in progress, but I'm doing all the sourcing of ingredients right now on my own. I'm trying to find if there is one vendor that can really help me with everything, but I haven't yet, so I'm ordering from various vendors online to source my milk and my cream, my vanilla, my sugar, my milk powder, my stabilizer, the pints, the labels. And because I don't have the storage space, I'm not doing huge quantities at a time which also accounts for [higher] prices. Things are getting delivered to my apartment since the kitchen charges to accept deliveries and they charge for storage.
Then I head into the kitchen. I did three days of production this past month, one full day by myself where I was making all the bases. A lot of ice cream shops don't make their own base, they buy bases from manufacturers or co-packers. I'm proud of my base, I want to continue using it, but it's incredibly time-consuming and expensive. So it's something I've been thinking about, maybe testing out a few pre-made bases that can then be steeped with fruits and herbs and turned into my own flavors. The bases have to age overnight. You want them nice and cold before you churn them. And then the following two days I hire kitchen staff that is there full-time at the kitchen. After the pints harden overnight, I go into delivery and pickup.
I love the idea of having different pickup locations because it's another opportunity to drive traffic to local businesses. I found a small food delivery company here in Brooklyn that's almost like a b2b Uber — they hire drivers by the day or by the hour who pick up a shift to do your food delivery. But unlike DoorDash or UberEats, it's not one at a time, they pick up all the product at once. I meet them at the kitchen with all of the ice cream packaged into individual branded thermal bags in a hard cooler with dry ice. At the end of the shift, the driver drops the cooler off at my apartment. In the future, they'll also be dropping off any returned thermal bags. So if a customer returns their freezer bag, they'll get a coupon for their next purchase.
How has your business relied on text messaging to operate?
What's nice about this delivery company is that they have a tracking system. So the customer gets a text message with a link and they can track the driver and see how far they are. They get another text message when the driver is 10 minutes away, and a third when they're pulling up. I can personalize those messages, which is really nice. All my customers have been getting text messages [about their orders] from the Bottle platform, and [text messages about their deliveries] from the delivery platform. Everybody says it's super helpful, and they really like it.
What's important to you in regards to building relationships with your customers?
They're so important, especially because this is a product that is featuring community members. It's going to be more expensive, it's going to be a little bit outside of the box. So I'm really trying to reach those people who want to support local, who want to try different things. I'm not giving them a choice of ice cream—they get what they get, it's a surprise box of ice cream and treats at the end of the month. So it is a pretty specific audience base. But I think it's also very Brooklyn, it's very New York.
Working with my community members as the makers and bakers, but also my customers is so important because I don't want to charge too much, but I also want them to get a quality, unique product that they know they're not going to get in a grocery store or even in a luxury scoop shop. It's been really fun to be present at pick-up locations because I get to meet everybody. I don't know if I can keep that up in the long term if I have multiple pickup points, but it was so great to see these people who've been following me on Instagram and are actually buying my ice cream. I'm hoping that they also send me recommendations for small businesses in their area that they want to see highlighted. I hope it's a pretty close relationship, and that they're willing to spend a little bit more money on ice cream because of the stories behind it, and because of the purpose and the mission behind it.